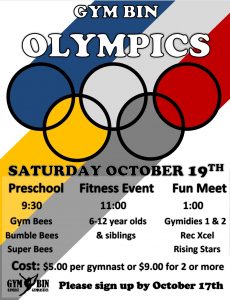 This Saturday the Gym Bin is hosting their annual Gym Bin Olympics! This will give your athlete an opportunity to show off the skills they have been learning! They have been learning routines to perform.  The cost is $5.00 per gymnast or $9.00 for 2 or more gymnasts! It is FREE to attend/watch. So invite friends and family to come and watch.
Here is the form that needs to be filled out and returned by Thursday October 17th!
Click the link below and click again on the title!