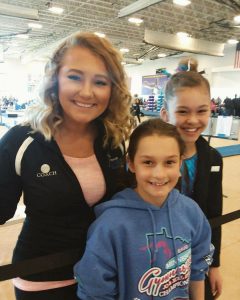 USAG COMPETITIVE AND PRECOMPETIVE TEAMS
NEW OPTION! Automatic Monthly Withdrawal for your payment.
Click Here to Pay Monthly Fee or to establish Automatic Monthly Withdrawal.
TENTATIVE 2019/2020 MEET SCHEDULE
Invite only
USAG XCEL COMPETITIVE PROGRAM
This USAG competitive program, for ages 7-17, is a more relaxed, less intense program than the Jr. Olympic program. Gymnasts practice fewer hours and train and compete optional routines, which are made just for them based on certain skills for each level.
The Xcel program has the following different levels:
FALL Silver Practice Schedule:
Mondays 5:30 PM-7:30 PM; Thursdays 3:45 PM-5:45PM
FALL Gold Practice Schedule:
Tuesdays/Thursdays 5:30 PM – 8:30 PM
Advancement from one level to another is achieved via meeting standards which help each gymnast be successful as they learn and grow.  When a gymnast has met those standards, the family will be notified of the advancement opportunity.
Invite only
USAG JUNIOR OLYMPIC PROGRAM (JO Program)
The United States Of America Gymnastics (USAG) Jr. Olympic Program consists of Levels 1-10. Each level progresses in skills and routines (Olympians are Elite Gymnasts which is the advancement out of Level 10.) The JO program is an intense and demanding competitive program for the more serious and dedicated gymnasts who have goals of excelling in gymnastics at a higher level.
The following are a part of the USAG JO Program:
Levels 1-2
Pre-Competitive Team (Rising Stars)
Gymnasts in our pre-competitive team continue building the strength, flexibility, determination, skills and discipline needed to be a competitive gymnast in all four events — vault, bars, beam and floor. From Rising Stars, gymnasts either are invited to continue in the Jr. Olympic Program or join the Xcel program.
FALL Rising Stars Practice Schedule: Tuesday/Thursday  3:15 PM-5:15 PM
FALL Levels 3-10  — Ages 7-18
Jr. Olympic Team
In this USAG program, gymnasts compete individually, in addition to competing as a team when 3 or more register for a given meet. In Levels 4-10 advancement is only achieved by meeting specific USAG standards at sanctioned meets. Achieving this standard one time does not mean automatic advancement. Rather, the gymnast as a whole is evaluated in order to best achieve success.

Levels 3-5:  Compulsory Levels
Each level has a specific compulsory routine designed by the USAG and performs to the music specific to their level.
FALL Level 3 Practice Schedule:
Mondays/Tuesdays 3:45 PM-6:15 PM
Thursdays 3:45 PM-6:45 PM
FALL Levels 4 Practice Schedule:
Mondays 5:30 PM – 8:30 PM
Tuesdays 3:45 PM-6:45 PM
Wednesdays/Fridays 3:45 PM-6:15 PM
FALL Levels 5 Practice Schedule:
Mondays 5:30 PM-8:30 PM
Tuesdays 3:45 PM-6:45 PM
Wednesdays/Fridays 3:45 PM-6:15 PM
Levels 6-9:  
Optional Levels
An optional gymnast may select their own music and create their own routines with the help of their coach and/or choreographer.
FALL Levels 6 – 9 Practice Schedule
Mondays/Tuesdays 5:30 PM-8:30 PM
Wednesdays/Fridays 3:45 PM-6:45 PM
Thursdays 3:45 PM-6:45 PM