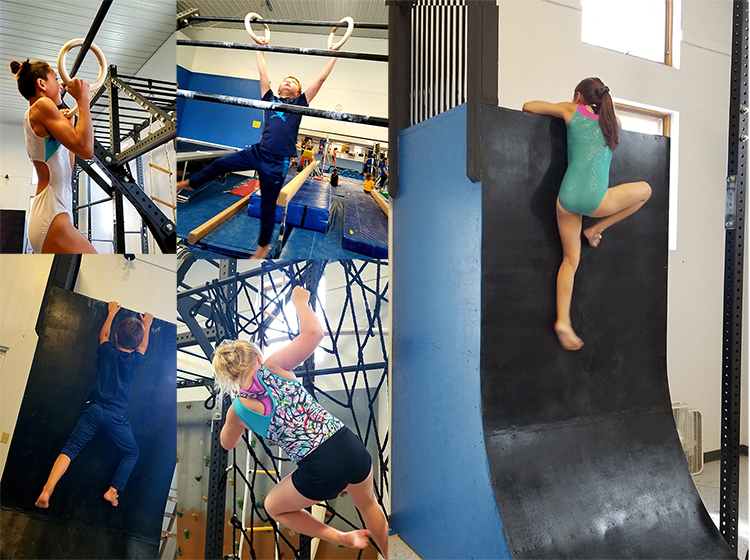 We are excited about our NEW NINJA GYM, where kids will be challenged at a whole new level while having fun! We have been asked if there will be co-ed classes in the future and the answer is "YES!" Watch for expansion of programming in the future after the gymnastics facility has fully expanded into the quonset!
Session One
9 Weeks: Sept. 3th – Nov. 2rd
Session Two
9 Weeks: Nov. 4th – Jan. 18th
Session Three
9 Weeks: Jan. 20th – Mar. 21st
Session Four
9 Weeks: March 23rd – May 23rd
Pre-registration and payment are expected to guarantee a class spot.
How to Register:
Fill out online Registration Form by clicking REGISTER NOW under class selection AND:
Select class, add participant's name, add to cart to complete online payment.
Once annually complete required payment of Family Fee. (see below)
NOTE: Activities or classes with fewer than three gymnasts registered may be cancelled.
If you have any questions, please call (444-FLIP) or email Mikayla
CLASS OFFERINGS:
Ages 6-12
New! CO-ED Classes Added!
NINJA CHALLENGE CLASSES
These classes will cover a variety of activities: obstacles, fun fitness activities, and exploring our NEW NINJA CHALLENGE EQUIPMENT AND WARP WALL!
CO-ED ONLY: Ages 6-12 ~ Mondays 6:30-7:30 PM
CO-ED ONLY: Ages 6-12 ~ Thursdays 6:30-7:30 PM
BOYS ONLY: Ages 6-8 ~ Tuesdays 5:30-6:30 PM
BOYS ONLY: Ages 8-12 ~ Thursdays 5:30-6:30 PM
1 class/week $101.00
Annual Family Fee (Required)
The Family Fee of $30.00 must be paid once annually before the first class in each given year and covers all family members. All families must pay this fee – even if they have their own insurance