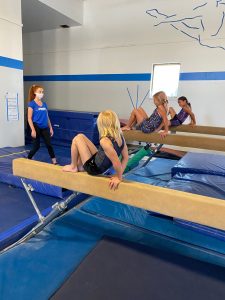 SCHEDULES AND REGISTRATION
The summer session ran smooth and we are excited to announce that we will be opening for our fall session (session 1)!  We will begin on Tuesday September 8th, as we will be closed on September 7th. The session will continue through November 7th. There will be no makeup classes during this session. Listed below are the classes offered at this time. 
Monday

Tuesday
Wednesday

Thursday

Gym Midjies 1 ($95)

6:00-6:45

5:00-5:45

6:00-6:45

Gym Midjies 2 ($95)

7:00-7:45
7:00-7:45

7:00-7:45

Superbees ($95)

5:00-5:45

6:00-6:45
9:00-9:45
5:00-5:45

6:00-6:45

Gym Bees ($95)

4:30-5:15
5:30-6:15
4:30-5:15

9:00-9:45

Bumble Bees ($95)

5:30-6:15

9:00-9:45
4:30-5:15
5:30-6:15

4:30-5:15

Gym Tots ($85)

9:00-9:30

5:15-5:45

Rec Xcel ($105)

7:00-8:00
Due to the pandemic, several things will be different at the Gym Bin as we follow CDC, MDH, and USAG guidelines. One of those changes being that we must limit the amount of kids in a class to allow for social distancing to take place throughout class. To ensure that we are not exceeding the amount of kids allowed in a class, pre-registration will be required. Your child may only sign up for one class per week and you must bring your child the same day each week. The best way to register is to click HERE. This will prompt you to create an account on our new registration program.  You will register and pay all in 1 spot/step.
Another change that took place this summer and will continue is that all classes will take place in the back Bin area or upstairs to limit the mixing of kids from building to building, with the exception of Ninja classes (in the Ninja Gym). This means that your child should enter through Door B on the west side of the building, Door C for Ninja Classes. Gymnasts should come dressed and ready for class. We ask that gymnasts do not come any earlier than 10 minutes prior to the start of class. 
SAFE PRACTICES
When gymnasts arrive at Door B, they should wait 6 feet apart on the spray painted lines until they are met by a staff member who will give them hand sanitizer and take their temperature. Parents may stand with their child on their line before entering the building if they choose. They will be sent directly to the Bin to begin stretches. We encourage parents to stay out of the building during practice, however if you feel the need to enter, you will also be give hand sanitizer, your temperature will be taken, you will be asked a series of health questions, you will be required to wear a mask, and you will need to find a chair in the Bin using social distancing where you will remain throughout the practice. Only one spectator per gymnast is allowed. The multipurpose room will be closed at this time. WE EXPECT THAT YOU WILL KEEP YOUR CHILD HOME IF THEY ARE NOT FEELING WELL.
During class, gymnasts will rotate from station to station while maintaining social distancing as much as possible. Keep in mind that these are children and they may need many reminders to keep their distance. Gymnasts should bring their own water bottle that they will carry with them as the drinking fountain will be off limits. Coaches will be wearing masks, along with practicing social distancing as much as possible, always keeping the safety of your children first. Gymnasts will sanitize their hands throughout practice, as necessary. Each station and apparatus will be disinfected after each class. At the end of class, your child will be dismissed to leave the building one at a time. Parents should leave the building with their child if they choose to stay or should meet them outside the building as they leave. 
Hopefully, you find this information helpful. If you have any questions, please call 444-3547. Our business hours are Monday through Thursday 8-11am and 12-5pm. Thank you for your support and understanding. We look forward to seeing the gym full of smiling faces again!