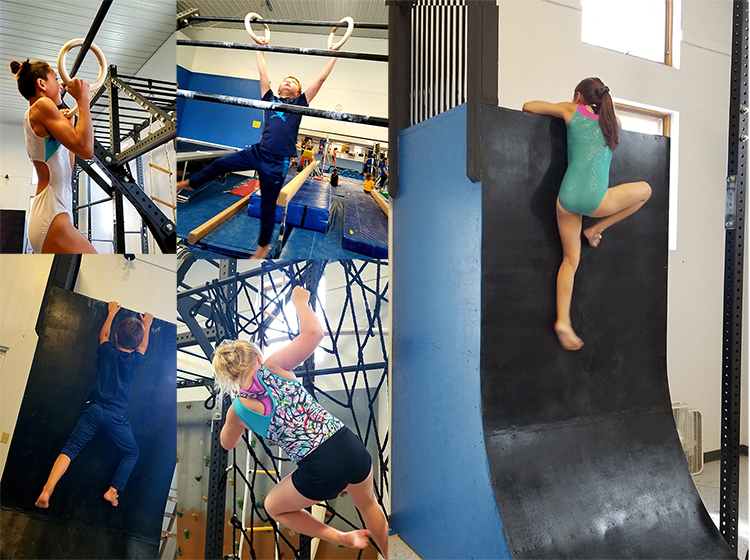 We are excited about our NEW NINJA GYM, where kids will be challenged at a whole new level while having fun! We have been asked if there will be co-ed classes in the future and the answer is "YES!" Watch for expansion of programming in the future after the gymnastics facility has fully expanded into the quonset!
Session One NINJA GYM
9 Weeks: Sept. 3th – Nov. 2rd
Pre-registration and payment are expected to guarantee a class spot.
How to Register:
Fill out online Registration Form by clicking REGISTER NOW under class selection AND:
Select class, add participant's name, add to cart to complete online payment.
Once annually complete required payment of Family Fee. (see below)
NOTE: Activities or classes with fewer than three gymnasts registered may be cancelled.
If you have any questions, please call (444-FLIP) or email Mikayla
SESSION ONE CLASS OFFERINGS:
Ages 6-12
NEW AND IMPROVED!
Boys Fun and Fitness with NINJA!
These classes, for boys only, will cover a variety of activities: obstacles, fun fitness activities, and exploring our NEW NINJA CHALLENGE EQUIPMENT AND WARP WALL!
Ages 6-8 ~ Tuesdays 5:30-6:30 PM
Ages 9-12 ~ Thursdays 5:30-6:30 PM
1 class/week $90.00
Annual Family Fee (Required)
The Family Fee of $30.00 must be paid once annually before the first class in each given year and covers all family members. All families must pay this fee – even if they have their own insurance