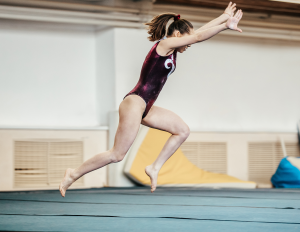 HANDSPRING/TUMBLING CLINICS  for Ages 6-12
Offered for both beginners and intermediates, Gymnasts 6 and older will spend the time working on the most important tumbling skills: round-offs, walkovers and especially handsprings. There will be a variety of drills for gymnasts just beginning to work on these skills and other drills for those who almost have the skills or just need to improve them. The floor, the wedge, the air trac and the trampoline will all be available to use. It's a wonderful opportunity to get the basic needed skills learned well so that progression to more advanced skills will be easier.
BEGINNER CLASS:  July 11TH 10:00 AM -12:00 PM
INTERMEDIATE CLASS:  July 18TH 10:00 AM -12:00 PM
Register now by going to the Open Gym/Clinics tab of our website!